In Vietnam, import PP prices have been rising for the past two weeks after a month-long stability. This has been in line with the bullishness in the China PP market amid the country's energy cuts.
Lower import availability due to scarce arrivals, as well as stronger energy values have also been cited as other drivers of the market.
On top of that, the demand outlook in Vietnam has improved since the second half of September started amid hopes of easing Covid-19 restrictions, also contributing to the weekly gains.
The commercial hub Ho Chi Minh City will start lifting its coronavirus curbs as October kicks off, matching expectations.
Weaker economic data urged easing restrictions
Vietnam's latest economic data explains why the government leaves the zero-Covid policy behind.
The country is taking steps to revive its economy by allowing more business and social activities although experts worry that it may be too early to do so considering the low vaccination rates in most of Southeast Asia.
According to data from Vietnam's General Statistics Office (GSO), the country's gross domestic product fell by 6.17% year-on-year in the third quarter, down from an increase of 6.57% in the second quarter.
PP prices up by around $20-45/ton from last week
The overall range for import homo-PP raffia and injection prices on CIF Vietnam basis has been assessed $20/ton higher from last week at $1200-1290/ton and $1220-1290/ton, respectively.
A few players said, "Import PP offers have firmed up by $20-30/ton on a weekly comparison. The number of import PP offers has remained limited. Meanwhile, we are still facing shipment issues. Freight rates are quite high and it is getting harder to find available ships nowadays."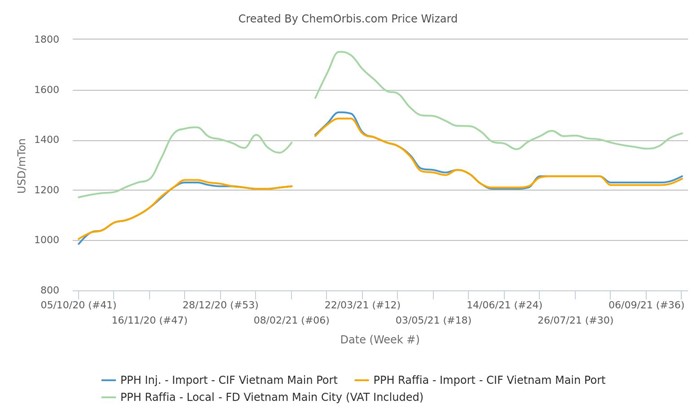 As for locals, homo-PP raffia prices were also up by VND300,000-1,000,000/ton ($13-44/ton) from last week to be assessed at VND31,800,000-33,500,000/ton ($1272-1340/ton without VAT) on FD Vietnam, cash basis.
A converter noted, "Local PP prices have slightly increased, following higher import prices. Demand has improved recently due to the expectations that the government will relax the Covid-19 curbs as of October in order to revive the economy which has been under pressure of partial lockdowns."
(Source: Chemorbis)