In Europe, PE sellers could obtain €80-100/ton increases on November deals on the back of higher costs and supply constraints for some grades. Sellers have mostly trimmed their initial hike requests as increases surpassing the ethylene's upsurge have proved unworkable amid slow purchasing activity.
Recent hikes have pushed prices in Italy and West Europe to their highest levels since around June-July, according to ChemOrbis Price Index data.
Some grades tighter than others
LLDPE, MDPE and HDPE grades have been reportedly tighter than other grades amid disrupted overseas supplies. A lack of sufficient imports from the US for mLLDPE C6 has pushed prices significantly higher. Some sources selling Middle Eastern material reported being sold out due to their trimmed allocations.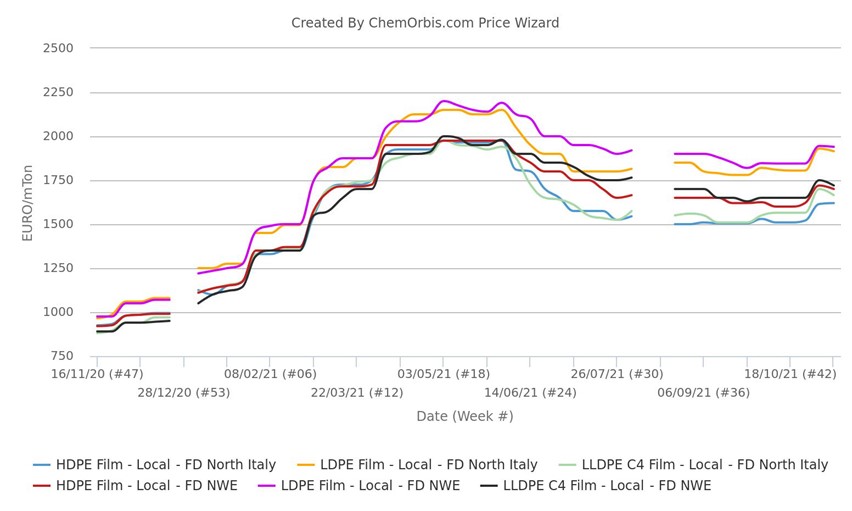 US PE back in the game, not necessarily at aggressive levels
Meanwhile, import US offers have re-emerged recently, with HDPE film being traded at €1610-1650/ton on DDP basis, with delivery in January. This was deemed as the reflection of growing supplies in the US.
Still, prices are at par with or close to the European levels and there are no signs of the market being awash with US material. Locally-held US PE cargoes also trade at par with the European origins.
Buyers sit on comfortable stocks
Despite tightness for some grades, the PE market did not absorb initial hikes beyond €100/ton. Overall buying appetite has been calm and remained tied to basic needs, with buyers feeling no urge to buy as they sit on comfortable stocks.
Converters did some pre-buying during October amid firmer voices, while some of them reported that they are still receiving previously secured cargoes amid delivery delays. A lack of truck drivers and lower cargo handling speed due to the lack of manpower at ports have been leading to longer than usual transit times.
That is to say, converters will be focusing more on the stock management, bearing in mind that demand will gradually slow down towards the year-end and logistical hurdles will prevail.
Skepticism about further hikes in Dec
Sellers voiced firmer expectations for December, citing rising costs and a lack of competitive import offers. Despite firmer voices, there remains uncertainty if buyers will be back to replenish heading towards year-end festivities.
Some players are skeptical about the absorbability of further hikes, considering comfortable regional availability, year-end lull as well as container freight rates that came off their peaks in September.
(Source: chemorbis)