After following a stable to slightly firmer trend since early June, import LDPE and HDPE film prices in China witnessed slight decreases during the week that ended on August 13 despite supply limitations from overseas markets, particularly from the Middle- East amid production issues in that region.
The worsening Covid-19 conditions in China and rising logistics costs kept demand slow while support from the cost side also weakened with lower ethylene prices in Asia, weighing on LDPE and HDPE film prices.
As for LLDPE film, prices managed to maintain their stability unlike other PE grades on relatively better demand amid higher food packaging usage during Covid-19 related lockdowns across major Chinese cities.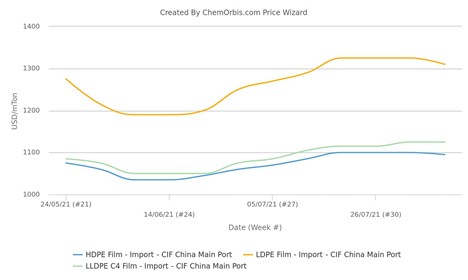 "While demand concerns persist over downstream markets' recovery, LLDPE prices have been better supported. LLDPE interest has increased over the other grades as there is higher demand for food deliveries, especially during the recent Delta variant-triggered lockdowns and restrictions across many major Chinese cities. Around 80% of LLDPE goes into film applications such as in food and also non-food packaging," noted a trader.
Elaborating further, he added, "However, the flip side of rising infections also means that factory production, transportation, and trading activities have been disrupted. Adding to Covid are the current floods across major Eastern and Southern provinces which also crimp activities."
During the week that ended on August 13, overall import PE prices were assessed down by $10-20/ton from the previous week for LDPE film at $1280-1340/ton, down by $10/ton for HDPE film at $1070-1120/ton, and unchanged at $1070-1180/ton for LLDPE film, all on CIF China, cash basis.
(Source: Chemorbis)