Global PET bottle markets have followed a firm trend in February, driven by spiking crude oil prices. Contributing to the scene have been elevated freight rates and lingering container issues, as they provided an upper hand to sellers. The high season has yet to start in most regions, but Asian exporters have achieved good sales in key markets.
According to statistics, China is the world's top PET exporter with a by far largest market share of 35% in 2021. Taiwan stood in second place with 10% share in overall exports, followed by the Netherlands and India with 7%. South Korea and Thailand were also important with respective market shares of 4% and 3% in global PET exports.
Export offers from China, S. Korea climb to more than 3-year highs
According to ChemOrbis weekly average data, export PET bottle offers from China and South Korea have reached their highest levels since November 2018, reflecting the buying enthusiasm and rising oil prices.
Players opined, "Tight availability amid logistic snarls coupled with the easing of Omicron concerns lent support to regional PET markets in February. These factors, as well as vivid demand from export outlets, overshadowed slightly softer spot MEG and PTA prices this week."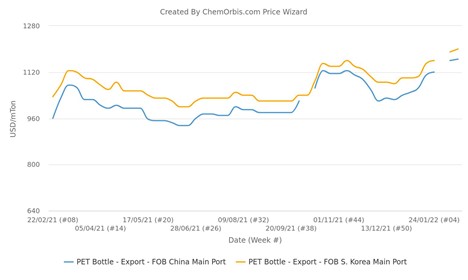 Robust demand for Asian cargos in the US, Japan and Europe
Meanwhile, several Asian exporters reported that they have seen buoyant demand from major markets, including the USA, Japan and Europe this month.
Statistics suggest that the US is the number one PET buyer of the world. In 2021, imports into the US formed 18% of the overall PET imports. It was followed by Japan with an 11% share. Italy and France followed in the list as the third and fourth largest PET importers. 30% of PET imports was also formed by European countries including Russia and Ukraine, according to 2021 stats.
Although the high season has yet to kick off in many countries and downstream activities seem mild, Asian cargos have seen good buying interest across the board due to their competitive power and supply constraints in regional markets.
A trader in China confirmed lifting their export PET resin offers , citing bullish crude oil markets and tight supply in the region. He commented, "Demand across all regions has been very strong in line with optimistic expectations about a global economic recovery in 2022. Buying appetite from end-users also picked up this week in response to tight regional availability."
"Regional and export sales to the US have been very robust. Spot buying has increased this week with more buyers returning to the market," another seller based in China reported.
Similarly, a Thai producer reported improving regional and global demand despite the Omicron variant, reflecting that global economic recovery is on track. "Demand remains robust from Japan, our key export market, and is also very strong from the USA and Europe," he further noted.
Southeast Asian demand is also vivid
According to a South Korean PET producer, demand in Southeast Asia is projected to remain strong during the rest of February in tandem with the lifting of lockdowns.
"Surging oil benchmarks lured buyers back to the market, which spurred rising demand from the USA, Africa, the Middle East and Europe. We also attribute the rising activity to higher shipping costs and container shortages across the board," he said.
Limited spot availability, costs boost demand from Europe
European PET resin consumers have had a hard time reflecting their rising utility costs onto their end customers as limited supply kept the region's spot markets elevated for another month. Meanwhile, import PET bottle cargos from North and Southeast Asia as well as India grabbed buying interest, particularly early in February due to their competitive edge.
Indeed, import offers emerged at €1400-1430/ton CIF/DDP Italy as compared to local prices at or above €1500/ton on an FD basis, before they recently rose to €1450-1470/ton.
According to statistics, Asian exporters met around 20% of the total requirements of European Union countries in 2021, while the region mostly depended on local availability. The main Asian suppliers of the region were India, China, Vietnam, Indonesia and South Korea.
PET sellers in Europe reported regular demand for this time of the year, bearing in mind that the high season has yet to start for PET applications. As for March, the possibility of delays in the arrival of import cargos coupled with the crude rally is expected to keep the market firm at prevailing levels. Players do not rule out small gains if activity picks up owing to the start of the season, however.
(Source: Chemorbis)